Custom printing, embroidery, & design. Serving Metro Detroit for over 25 years.
LOOK YOUR BEST, BUY THE BEST!
Armadillo is your neighborhood print shop on overdrive. Whether you need a minimum order of 12 shirts for your softball team or landscape crew, or thousands of shirts for your brand or event, we've got you covered.
Our creative and production teams bring your project to life with superior attention to detail and service. When you Go Armadillo your order will be done right, delivered on time, and worked on by people who care.
contact
(248) 547-0490
jon@goarmadillo.com
Location
3861 12 Mile Rd.
Berkley, MI 48072
Entrance and parking in rear
474 Peterboro
Detroit, MI 48201
Detroit Shipping Company
Hours
M-F 9a–5p
3861 12 Mile
Berkley, MI 48072

Turn right on Bacon St.
enter through the alley south of 12 Mile

Detroit Shipping Company
474 Peterboro
Detroit, MI 48201
Services
Custom Screen Printing
We have the capability to print up to 6 colors per location and have a variety of specialty inks on hand to give your project that extra pop! We use industry-leading ink brands and equipment to ensure the best possible quality and longevity in our prints.
Custom Embroidery
We offer in-house embroidery on a variety of great items from hats to polos, jackets, and more so you're always looking your best in any situation. Our production team has experience in high-detail work and difficult design placement. Please note that a one-time fee will apply to set any new design up for embroidery.
Design
Our in-house designers can bring your project to life with original artwork or by helping refine your own idea or sketch. Most basic typesetting and clipart assembly can be done for no cost, while labor-intensive design or multiple artwork revisions may incur additional fees.
Thousands of styles, organized and sortable by color, fabric, size, and more.
Shirts WE Like to use
staff picks and classic favorites listed from good to better to best
These are only 3 of the hundreds of different items we can print on. There are other fabric blends, ladies cuts, and made in the U.S.A. options available, as well as fleece, outerwear, and headwear. Please contact us using the quote request page or email info@goarmadillo.com to enquire about a specific product.

Our go-to shirt. The lowest price around, this shirt gets the job done for anyone who just wants a good all-around t-shirt. It comes in more colors than any other shirt we have, and runs in sizes youth XS up through adult 6XL.
A step up from basic. This ring spun cotton tee is light weight and semi-fitted. This is the perfect tee if you are looking to upgrade without breaking the bank.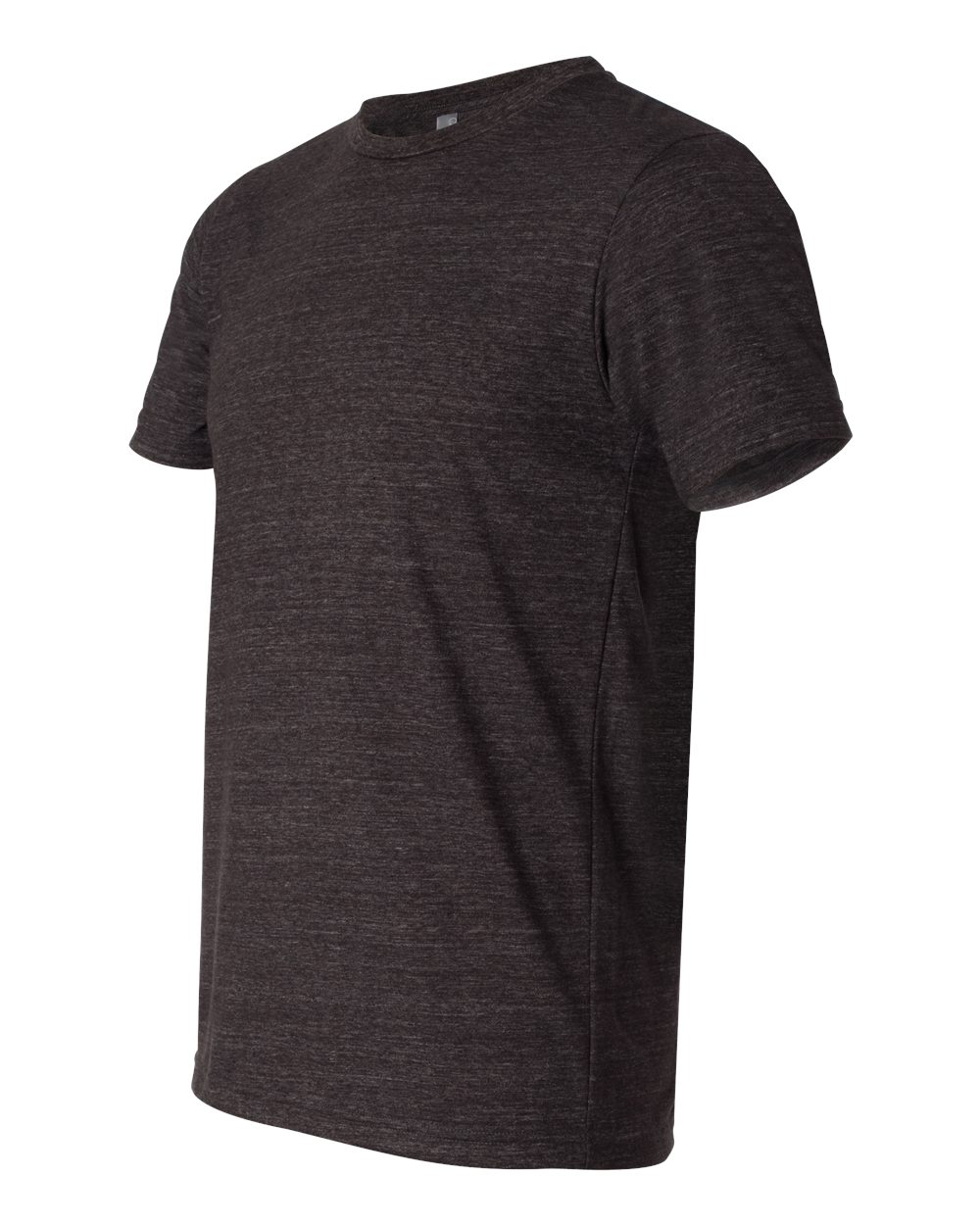 For the ultimate soft, vintage feel, there is no better option than a triblend tee. This shirt is a slimmer cut than the average tee, is available in sizes XS-4XL (select colors) and comes in an impressive variety of colors.
Super soft and with a more fitted cut than standard brands like Gildan and Hanes, Bella+Canvas is quickly becoming an industry standard go-to brand for anyone seeking a fashion-forward vibe for their shirts.
Frequently Asked Questions
Where are you?
3861 W. 12 Mile Rd.
Berkley, MI 48072
Our entrance and parking lot are in the back of the building. There is no access to our parking lot from 12 Mile. Please use the side streets Cummings (to the west) or Bacon (to the east) to access our parking lot and entrance from the alley south of 12 mile.
What is the minimum order?
Our minimum order is 12 pieces with the same decoration. This can be a mix of different styles like t-shirts and hoodies (within reason), as long as all pieces can get the same print. This means that the print on all items in your order will be limited by the item with the smallest printable area, so if your order has youth sizes and adult sizes the graphic will be smaller on the bigger shirts.
Can I bring in my own shirts?
We highly recommend purchasing your shirts from us. Shirts from our distributors are guaranteed to work with our decoration processes, and we have a wide variety of styles available. That said, we will print on items you bring in. However, we assume no liability for misprints on customer supplied stock, even if it was clearly our mistake. If we ruin a garment you supply, we will not replace it. The minimum order on all customer supplied product is 48 pieces. No exceptions!
If you bring in your own product, please be sure that it is brand new. Please unpack any items that are individually packaged. Please separate any items getting different decoration.
If you are having product drop-shipped from a wholesaler, please notify us in advance and use appropriate purchase order tags such as your name, your company's name, team name, etc. Sorting, bag opening, any additional handling will incur fees.
How long is the turn around time?
Standard is two weeks from the time your order details are finalized, which we consider to be when we have all of the information regarding sizes, artwork, etc necessary to complete your order. Changes to your order once placed will extend turn around. Major holidays may extend turn around.

If you are working with a deadline, please let us know when you need your order (when you need it, not the day of your event!) and we will do our best to work with you. Rush turn around is available for an additional charge.
What are the price breaks?
Starting with our minimum order of 12 pieces per design, there are price breaks every few dozen pieces.


What are your print dimensions?
Our maximum standard print size for t-shirts is 12.75" wide by 16" tall. Larger prints can sometimes be accommodated. Print sizes do vary by design and each project is different. For full front printing, we generally recommend 11-12" wide for adult shirts and 9-10" wide for youth and women's shirts.
How much is the setup for printing?
If you purchase your shirts from us, there is no screen set up fee. Screen setup charges will apply for orders with customer-supplied goods. Original artwork setup is a separate charge. For embroidery, there is a one-time digitizing charge to set up your logo that varies depending on the complexity of the design.
Do you do samples?
We provide a digital mockup of all decorated items before production at no additional cost. Screen printed samples can be done, but please note that the initial setup cost and turn around time of a printed sample is extremely prohibitive on most smaller orders. A pre-production sample can be provided on any single color print order of 100 or more pieces, or any multi=color print order of 500 or more pieces, at no extra charge. Pre-production embroidery sew outs are available. Samples will extend turn around.
What format do you prefer for artwork?
We prefer to receive your artwork in the following digital formats:

.ai (adobe illustrator)
.psd (adobe photoshop)
.eps
.pdf (vector editable)
.jpeg or .bitmap in the highest resolution available (300dpi or higher is suggested)
You are also welcome to bring in other hand-drawn, or camera ready artwork as well.
Customers sending art in Word format (.doc) or Powerpoint (.ppt), as well as sending a low resolution jpeg embedded in any of the above formats will incur an art fee.
I have an idea for a shirt, but I don't know how to put it together. Can you set it up for me?
We would be more than happy to bring your idea to reality. We have artists on hand that can create custom artwork at your request, but please note that there may be additional fees depending on the time involved in bringing your idea to fruition.
If you are unable to find an answer to your query via this page, please feel free to contact us!